Fuel savings from hydrodynamic conditions
Today's attempts to control energy management onboard vessels include tracking the engine performance, route and weather conditions. An overlooked parameter is the control of the vessel's hydrodynamic conditions, which offers considerable fuel savings if done accurately. This demands equipment that guarantees measurement accuracy.
SAJ has developed a novel solution based on guidance software SAJ-ODT.
Many Officers and Managers wish they would have an, easy to understand, instrument that will show the ship's optimal trim. Look no further, the ODT module in the SAJ-DMS System does exactly that, always on-line and continuously presenting the optimal trim in an easy to use interface. The ODT software module introduced as add-on to the SAJ-DMS dynamic monitoring system, makes trim optimisation easy.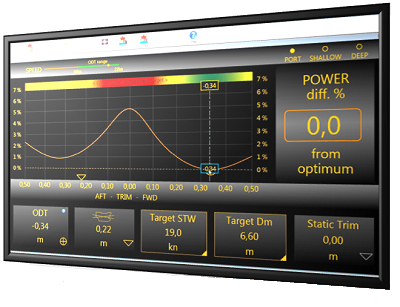 Highlights
Already installed SAJ-DMS systems can easily be updated with ODT.
As vessel operation and decisions are made in real time, the ODT becomes the "hands-on guidance tool".
The ODT utilises the core technique of the SAJ-DMS system, ship data, CDF, navigational and machinery data. It continuously displays optimal trim to target and the actual run on. It makes it easy to adjust any offset by moving ballast.
The ODT uses three modes of Dynamic optimisations; PORT (static), SHALLOW (squat) and DEEP (dynamic) which ensures a higher savings potential. The modes are automatically switching depending on status of operation. The indications are made easily understandable in % power difference from optimal and speed loss due to shallow water respectively.
The dynamic condition is measured to an accuracy of +/- 1 cm which always conforming with vessel actual scales. It allows trim optimisation to be made in real time against hydrodynamic condition.
Operating a vessel on Optimal Trim ranks highest in SEEMP guidance (MEPC.213(63)), category "Optimised Ship Handling".
Industry has identified and confirmed ~ 1-8% fuel saving can be obtained from predicted theoretical trim optimisation. That means the ODT trim optimisation based on accuracy makes the most of the saving potential.
The SAJ-DMS belongs to equipment which assist to lower the environmental footprint and reducing emissions
Trim optimisation is a fundamental part of a vessels voluntary Energy Efficiency Operational Indicator EEOI. This is why the SAJ-DMS and ODT module represents essential equipment to include in vessel specification.
Contact us
Please contact us, for more information about ODT and comparison facts disclosing how crucial accuracy is to manage trim optimisation.